ProCenter Bjørn Dunkerbeck - Bonaire
Das ProCenter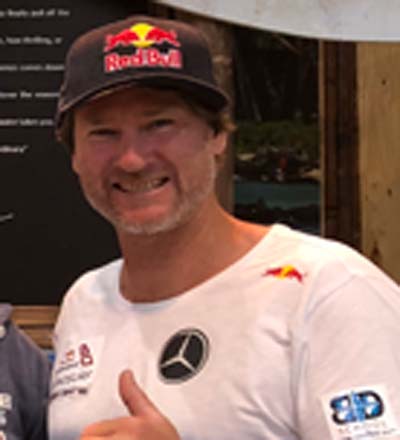 The ProCenter Dunkerbeck is located on the Caribbean island of Bonaire in the lagoon "Lac Bay", which is best known for its exceptionally good windsurfing conditions. The Pro Center offers professional windsurfing training and rental of windsurfing equipment. The lagoon stretches for more than 2 kilometers with shallow water conditions, warm water and continuously blowing wind. Windsurfing in the Lac Bay lagoon means: no wetsuit - wind and sun - all year round!
The Pro Center Dunkerbeck is equipped with Goya Boards and Sails, as well as Starboard Boards and Simmerstyle Sails. A wide range for beginners, advanced and professional windsurfers as well as wind foilers! You can take private lessons, or join tours across the island of Bonaire to explore other interesting windsurfing or foiling destinations!
The Sorobon Beach Resort is especially for the windsurfing guests of the Pro Center Dunkerbeck. The Sorobon Beach Resort is rustic and cozy in style, with an emphasis on personality and quality, as a perfect combination. These are always the main arguments of the guests and customers of the Pro Center Dunkerbeck in Bonaire.
We look forward to welcoming you to our little paradise in the Caribbean!
Surfrevier Bonaire - Lac Bay
The 4 km long and more than 2 km wide shallow water lagoon "Lac Bay" on the east side of the island offers ideal conditions for all skill levels. The constant Passat wind blows completely freely from the Atlantic into the bay undisturbed. Because of onshore wind and the reef protecting it from waves, there is shallow water in the entire bay. Perfect for speed and trying out new maneuvers.
In the approx. 2km² standing to knee-deep standing area with fine sandy bottom, beginners and advanced also have ideal training conditions. The rest of the area has a water depth of 3 - 8 meters. The surf wave on the reef is usually 1 - 2 meters high, but can develop up to 3 meters high depending on the wind. For speed freaks there is a speed slope in the area of 30 - 50 meters behind the reef.
Wind
The wind comes sideshore from the right with an average of 24 knots. The wind is very constant compared to European conditions. Wind holes or gusts don't exist more or less.
Temperatures
The average air temperature is around 30° C. The water temperature is warm.